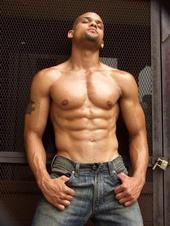 I've been doing
Hip Hop Abs
- in particular, the Total Body Burn work out - a little too enthusiastically! My butt (or rather my upper thighs) are aching like MAD! I know i've left it kinda late, seeing as i go on holiday in 2 weeks, but i'm really on a mission to tighten up all that loose flubber...Wish me luck!
Shaun T is like Will Smith's younger, cuter, way more ripped little brother! Very motivational (He's gay, isn't he?...). I can't believe i'm doing the work out almost every day!!! I mean ME! One of life's really lazy people...Now that's what i call a miracle!
Check him out on Ellen...